Dear OGS developers and users,
I meet an anomaly with GMSH2OGS.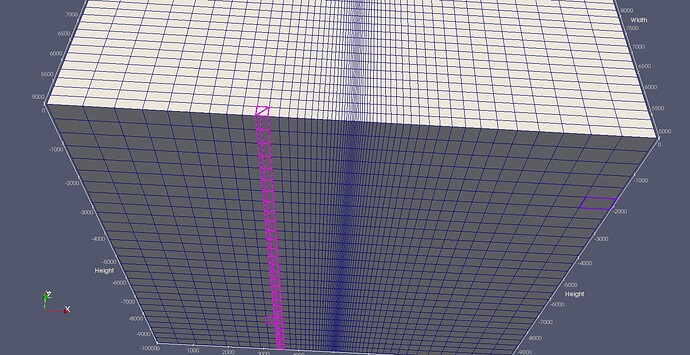 The clip (normal to the Y direction) of the model is shown in the picture (.vtu file opened with Paraview).
The selected vertical parts in pink are not the hexahedrons (cuboids). I do not know what happened during the transfer process.
I can not upload the .geo/.msh/.vtu files. So I list the content of .geo file.
Thanks for your help.
Yan
.geo file content:
a = 4964;
b = 72;
c = 10000;
d = 10000;
e = 200;
f = 26.666667;

//+
Point(1) = {0, 0, 0, e};
Point(2) = {a, 0, 0, f};
Point(3) = {a+b, 0, 0, f};
Point(4) = {2*a+b, 0, 0, e};
//+
Point(5) = {2*a+b, c, 0, e};
Point(6) = {a+b, c, 0, f};
Point(7) = {a, c, 0, f};
Point(8) = {0, c, 0, e};
//+
Line(1) = {1, 2};
Line(2) = {2, 3};
Line(3) = {3, 4};
Line(4) = {4, 5};
Line(5) = {5, 6};
Line(6) = {6, 7};
Line(7) = {7, 8};
Line(8) = {8, 1};
Line(9) = {2, 7};
Line(10) = {3, 6};
//+
Line Loop(1) = {1, 9, 7, 8};
Plane Surface(1) = {1};
//+
Line Loop(2) = {2, 10, 6, -9};
Plane Surface(2) = {2};
//+
Line Loop(3) = {3, 4, 5, -10};
Plane Surface(3) = {3};
//+
Transfinite Line{2, -6}= 4;
Transfinite Line{8, -9}= 51;
Transfinite Line{10, 4}= 51;
Transfinite Line{1, -7}=  28 Using Progression 0.8885;
Transfinite Line{-3, 5}=  28 Using Progression 0.8885;
Transfinite Surface{1,2,3};
Recombine Surface{1,2,3};
out[] =Extrude {0,0,-10000} { Surface{1,2,3}; Layers{28}; Recombine; };
Physical Volume("0") = {1,3};
Physical Volume("1") = {2};