Hi,
I have a reactant transport model which includes biomass injection. The model has two phases, injection of biomass (defined as "Suspended" in the model) and retention of biomass. Initially, there is an injection of biomass from t=0 to t=3627 seconds. Then there is an 8 hr retention time, in which there is no injection or mass flux between time t=3628 to t=32467 second. Here is a simple sketch of described phases with boundary conditions. Initially, suspended concentration is zero, and the pressure is 1e5 Pa.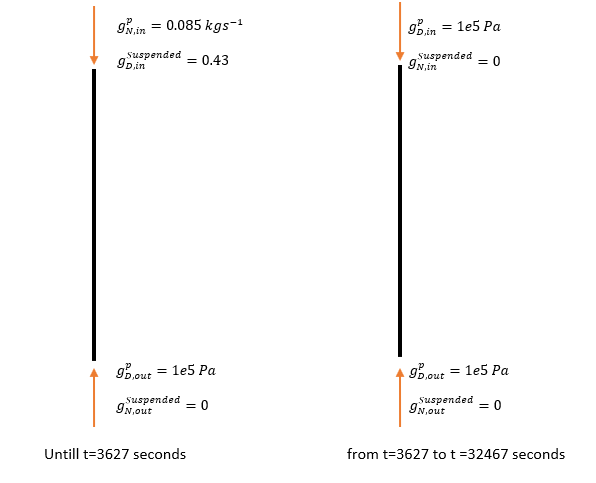 Injected biomass reduces due to attachment and decay of the bacteria. The rate is kattMOL("Suspended")+kdMOL("Suspended"), in which katt and kd are constants for attachment and decay. When I run the model, I see that the suspended concentration is not 0.43 till 3627 seconds at the top boundary. For example, at time t=900, 1800, it is 0.407715. At t=3600, there is an accumulation of suspended concentration, and from x=47 cm to x=50 cm, the concentration is 0.43, which I do not expect.
I expect a similar behavior shown in the figure below: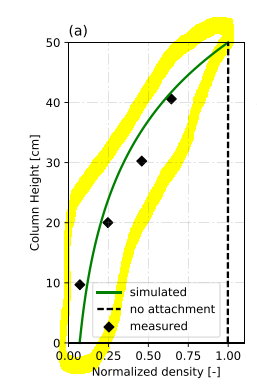 But instead, I got this type of distribution at t=3600 s: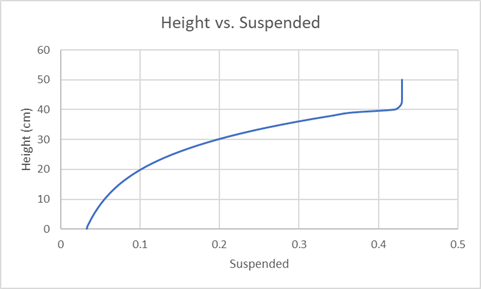 Is there something wrong with my boundary conditions? I used DirichletWithinTime and Neumann boundary conditions together. But I don't know what the problem is. I am attaching my file below.
BIOMASS.zip (301.7 KB)