Dear OGS Team and Prof. @Thomas_Nagel
I am solving a coupled HM problem (up formulation) for slope stability analysis under fully saturated conditions with a load at the top of the slope crest. However, I am getting spurious oscillations in the pressure wave during my simulations (Figure attached). I learned that it is the typical incompressibility constraint for hydromechanically coupled problems as I do not meet the Ladyzhenskaya-Babuška- Brezzi (LBB) stability condition.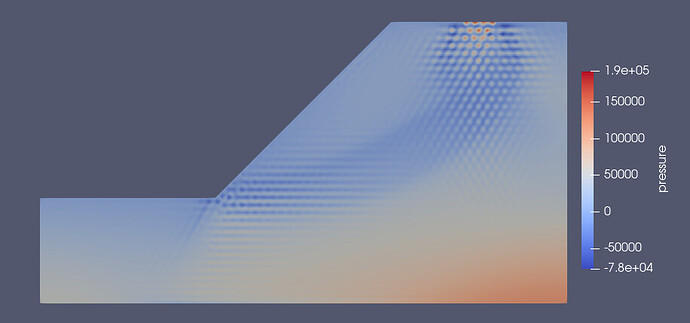 I found several ways to overcome this problem by using various stabilization methods (e.g., White and Borja, 2008). But the easiest way to eliminate the instability is by choosing a Q9P4 element (i.e., 9 nodded quad for displacement/4 noded quad for pressure).
I would like to know if there is any way of using the Q9P4 element in OGS for the HM problem. Also, I am open to knowing other possibilities for solving this numerical issue.
Thanks
Pavan.