Hello all,
Today I was trying to model a rainfall infiltration using the Richards flow process. I have applied a rainfall intensity of 45.4mm/day for a 5-day period and then an extra 10 days to monitor post rainfall behaviour. I am not much satisfied with the result obtained from the Richards flow process. So, I prepared another model with the Richards mechanics process but with zero displacement boundary throughout the domain (which basically turns the Richards mechanics process into the Richards flow process).
I did a comparative study and observe, water seepage after the rainfall is unnoticeable in Richards flow but seen in the Richards Mechanics process.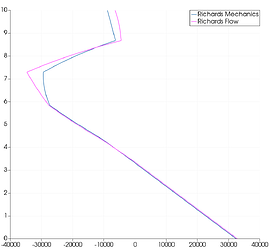 Input files: RichardsFlow.zip (20.5 KB) RichardsMechanics.zip (29.0 KB)
Could anybody check my test model and suggest to me why this is happening?
Thanks