Hoi,
I tried to reactivate an older model in OGS5 for calculation of heat
transport in a 3D geometry. The model setup includes a Neumann (flux)
boundary for a cylinder surface.
For definition of the cylinder surface the old gli file included
#SURFACE
$NAME
   CAN_CYLINDER
  $TYPE
   100
    8 55 0.475 0.001
; point id for Center of top surface of cylinder, point id for Center of
bottom surface of cylinder, radius, epsilon
The definition of the cylinder surface does not work anymore, it only
defines the cap of the cylinder. It seems related to some kind of
replacement of Wenqings older routines where the case type 100 is not
included anymore.
I attached a picture of the mesh geometry and the cap surface marked
with a higher temperature (but I need the other cylincer surface as well).
Next I would like to set a Neumann (flux boundary) condition via the st
file. I hope at least that this will give a Neumann boundary condition
and not a simple source term as stated in the online help.
So this are actually the questions I have:
1) Is there another way to define the cylinder surface?
2) Does the CONSTANT_NEUMANN keyword in the st-file set a Neumann
boundary conditon, or simply a scaled source term?
2a) How do I set a Neumann boundary condition, if CONSTANT_NEUMANN is
for source terms only?
Thanks for the help and many greetings, Georg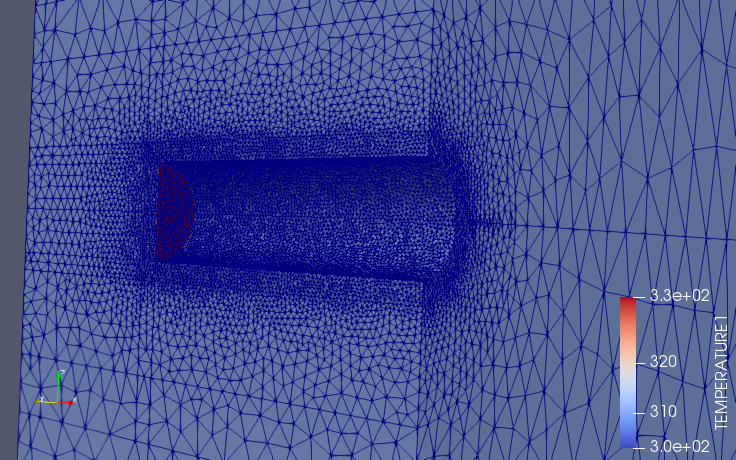 ···

--
PD Dr. Georg Kosakowski * Laboratory for Waste Management
Paul Scherrer Institut * 5232 Villigen/PSI * Switzerland
Phone: +41-56-3104743 * Email: georg.kosakowski@psi.ch
homepage: http://www.psi.ch/les/georg-kosakowski